Computer Privacy for you and your business

Free trial available at: www.protectmyfiles.com

What does it do?
This unique new service gives privacy and peace of mind. By using the right technology and making it simple to use, ProtectMyFiles allows any computer file to be stored, shared and transmitted giving you the control where ever the it travels.
Whether you want to protect your computer files or to protect valuable communications with trusted colleagues, ProtectMyFiles uses uniquely patented technology that totally seperates the files from the means of unlocking them so even if your computer is stolen the files remain secure
---

What do we do?
As a champion of the individuals rights to privacy ProtectMyFiles operate within the following principles:
---
De-Mystify
Reduce the confusion and translate the technical information concerning computer security into something more approachable.
---
Simplify
To create simple delivery mechanisms for complex encryption technologies
---
Ease Access
Reduce the barriers to enable non-technical users/customers to easily protect their own privacy
---
Educate
Inform consumers to the vulnerabilities that currently exist when using their computer, especially on the Internet
---

Deliver Trust & Integrity
Create a definition of Trust and Integrity for PC/Laptop users and their elected communities
---
Set Standards
To create an environment in which file encryption is adopted as a standard way to protect digital assets
---
How does it work?
To give you and your business privacy, ProtectMyFiles uses digital keys. Like the keys for your home or your car they are only as safe as the place you store them. Most security solutions keep the keys with the files, which is very much like leaving the keys under the doormat outside your home.
With unique new technology provided by Eruces Inc we create, store and automate the management of the digital keys you use, totally separating them from the files that you keep.
You install a small software application on your computer that protects the files, letting you add other people to a list of recipients who can unprotect the file.
---
Benefits
•Keep the same computer, software or e-mail
address
•Control who sees what and when
•Track when files are opened and viewed
•Remove another persons' rights to view the
file even after sending
•Protect any type file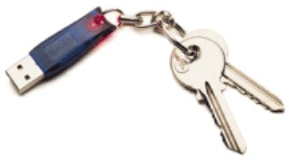 Using the token key (shown above) and your Personal Identification Number you can move from one machine to another and still keep secure.