We have over 3,000 sq. ft. of state-of-the-art software development facilities, equipped with SUN Solaris and NT Servers. We are on a 10/100 high-speed data circuits connected in Local Area Network with a dedicated 128 kbps Internet Backbone Link.

We work on a 24x7, "follow the sun" basis software development. At any given time, day or night, someone at USSL, somewhere in the world, is hard at work on your project!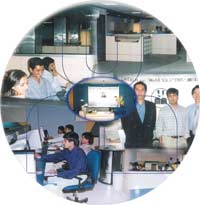 We work with well-structured development methodologies, documented coding standards, and established, proven processes for large scale, complex software development and systems integration. Security is an important aspect of our communication and office infrastructure.

We foster a company-wide awareness about the need for protection of intellectual property and sensitive customer information.

The factory has been set up with "best" practices adopted in all areas of the outsourcing relationship.